"I'm so glad you are doing the From Left to Write incentive again, it LITERALLY pushed me over the finish line last Spring." ~ Dr. Tiffany Shimmel, 2022
What is From Left to Write?
From Left to Write is a participation challenge that will last throughout the spring semester - from January 23rd through May 5th. For participation in each of the Graduate Writers' Studio (GWS) qualifying events, you will earn a specified number of entries into the monthly swag drawings and the May 9th Grand Prize Drawing for $300. 
Why Should I Participate?
The goal of this challenge is to impress upon you the importance of continued engagement with your writing projects (particularly long-term projects like theses and dissertations) and to highlight GWS programming.
Possible benefits of continued engagement with your writing projects include but are not limited to:
B

eginning to

build up "stamina,"

developing the ability to become more and more productive. 

Working through the crap and into the brilliance.
Feeling less stressed about writing because you are giving yourself more time to get it done and to do it well.
You may even find yourself beginning to enjoy writing!
Complete the Registration form found here. 
After you register, you will receive a welcome letter and an invitation to the "From Left to Write" Slack group. 
Engage with the group in Slack. This is where you will 
Submit your activities to earn your entries
Some activities will require documentation to demonstrate participation
Chat with other graduate students across the campus who are also participating in the challenge
Complete the Activity Entry Form (found in Slack as #activity-submission) immediately after completing each approved GWS activity to receive your entries. 
Your completion of this form is your official tracking of your participation in each activity, so save the copy emailed to you each time. 
While the GWS will compare the responses to our own records, we will not track your participation for you.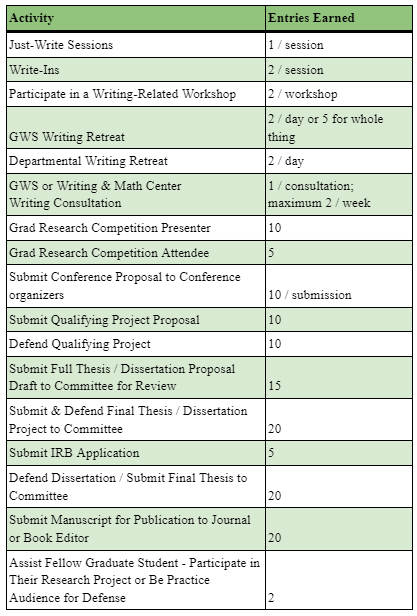 Where Can I Find Out About GWS Events?
Watch our weekly From Left to Write videos here!