2021-22 Information
At Lehigh University, we believe that access to good health care is critical to your academic success. Therefore, we require that full-time graduate students have health insurance. Lehigh offers a high-quality student health insurance plan at a reasonable cost. Please see below for some key information and then click on the links for more details.  
Health Insurance for Graduate Students for Fall 2021:  Graduate students who are arriving on campus or starting their studies in Fall 2021: The cost of health insurance for Fall only is $834 with coverage from August 15, 2021 until December 31, 2021 and the annual coverage is $2,057 from August 15, 2021 until August 14, 2022. Please contact the Bursar's Office for information on enrollment. Teaching, Research and Graduate Assistants may be eligible for a 50% subsidy.
Full-time graduate students in degree-seeking programs must either enroll or waive the insurance by the deadline.

If you are a US citizen and covered by an employer, spouse, or parent, you are not required to purchase Lehigh's plan but you must waive the insurance. 

If you are an international student on an F-1 or J-1 visa, you are required to enroll in Lehigh's insurance plan. 

2021-22 Graduate Health Insurance Premium is $2,057.00 

Additional information for graduate students about the Affordable Care Act.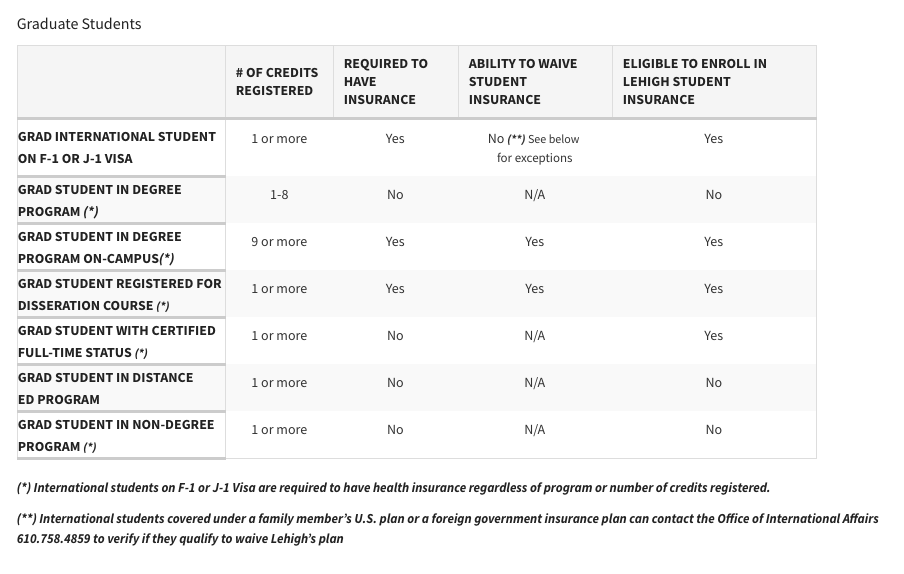 Health Insurance Subsidy
Access to good insurance is essential for the health of our students. To this end, the University established a subsidy program to help eligible graduate students pay for health insurance and a payroll deduction option to help students who wish to avoid one large payment (see below for deadlines and forms). Since the establishment of the subsidy program in spring 2003, more and more graduate students have received the subsidy and enrolled in the insurance program.
Additional Options
Lehigh also offers Dental and Vision plans that are optional for the student.  Click on the buttons below for more information about these plans.
Spouses and Dependents
Unfortunately, Lehigh does not cover spouses and dependents under the insurance plans offered to students.  Please click the buttons below for insurance options for spouses and dependents.