Mentoring Resources for Doctoral Students and their Advisors
Effective mentoring of graduate students enables outstanding scholarship, timely completion of degrees, and successful preparation of students into careers beyond Lehigh.  Effective mentors contribute to their field not only through the research they produce, but also through the students they develop and launch.
Mentor-mentee relationships can be complex and challenging to navigate for all involved.  We hope the following resources, all aimed at helping to establish and maintain strong and productive relationships will be helpful to both students and mentors.

Written by Lehigh faculty and endorsed by the Graduate and Research Committee, this document discusses the high level goals mentors should strive to achieve in their work with their advisees.

Written for both mentors and students, these documents describe commitments made by both in support of a productive relationship.  The compact format originated with the Association of American Medical Colleges and was crafted for life science laboratory environments.  It has since been adapted for use in other fields.

Written for advisors, this document provides suggestions for concrete best practices to foster productive relationships, research productivity, and student success.

Written for doctoral students, this document is the corollary to the document above, providing guidance for fostering productie relationships with advisors, supporting resarch productivity and academic success.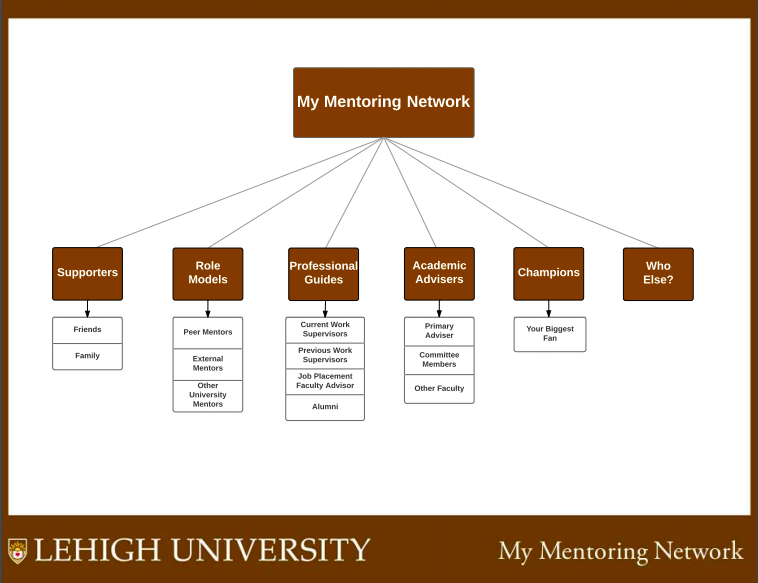 Graduate students should seek out ad establish a network of people who can help them reach their goals.  The Mentoring Network graphic offers suggestions on who graduate studetns should being into their circle.
For more on good mentoring practices, please check out the following resources: