Weekly Just-Write Sessions - Open
Weekly just-write sessions are open to any Lehigh University graduate student for summer 2021 from May 25th through August 12th. All Just-Write Sessions will be held virtually at the links below. However, if you want the in-person experience, come by Packer House during the session, call Yvonne at 610-758-2726, and you can work in the space that will be the physical Graduate Writers' Studio.
Graduate writers can use this time to work on their own writing while knowing that others are also writing. Each just-write session will use the pomodoro (or similar) technique to balance writing & break times. Aside from initial check-ins, break-time check-ins, and summary check-ins, participants can choose to work with their cameras on or off. Graduate students are welcome to stay for the entire session or to enter or leave the session as their schedule permits, and they may attend as many or as few as they find useful each week. Registration is not required. Links are found below. 
Each week, three (3) just-write sessions will be offered. Days and times are as follows: 
Tuesday Afternoons: 1:00pm - 4:00pm
Wednesday Mornings: 8:00am - 11:00am
Summer Just-Write Group - By Request
The Summer 2021 Just-Write Group is open to Lehigh University graduate students by request only. This group will work together from May 25th through August 12th. Members can use this group to provide accountability for themselves and their peers as they work on their own writing projects. If you are interested in learning more about this group, email Dr. Yvonne Lee at yrl219@lehigh.edu. 
Writing Retreats
Writing retreats are just-write events where participants devote extended periods of time to any aspect of the writing process while in the presence of (virtually and/or in person) other writers engaged in writing projects.   
Summer Destination Writing Retreat
Monday, July 12 through Wednesday, July 14

9:00a - 5:00p

Retreat at Bear Creek Mountain Resort

REGISTER FOR IN-PERSON ($60, access to Bear Creek amenities, must commit to all 3 days, no refunds)

REGISTER FOR VIRTUAL (via Zoom, free, NO access to Bear Creek amenities)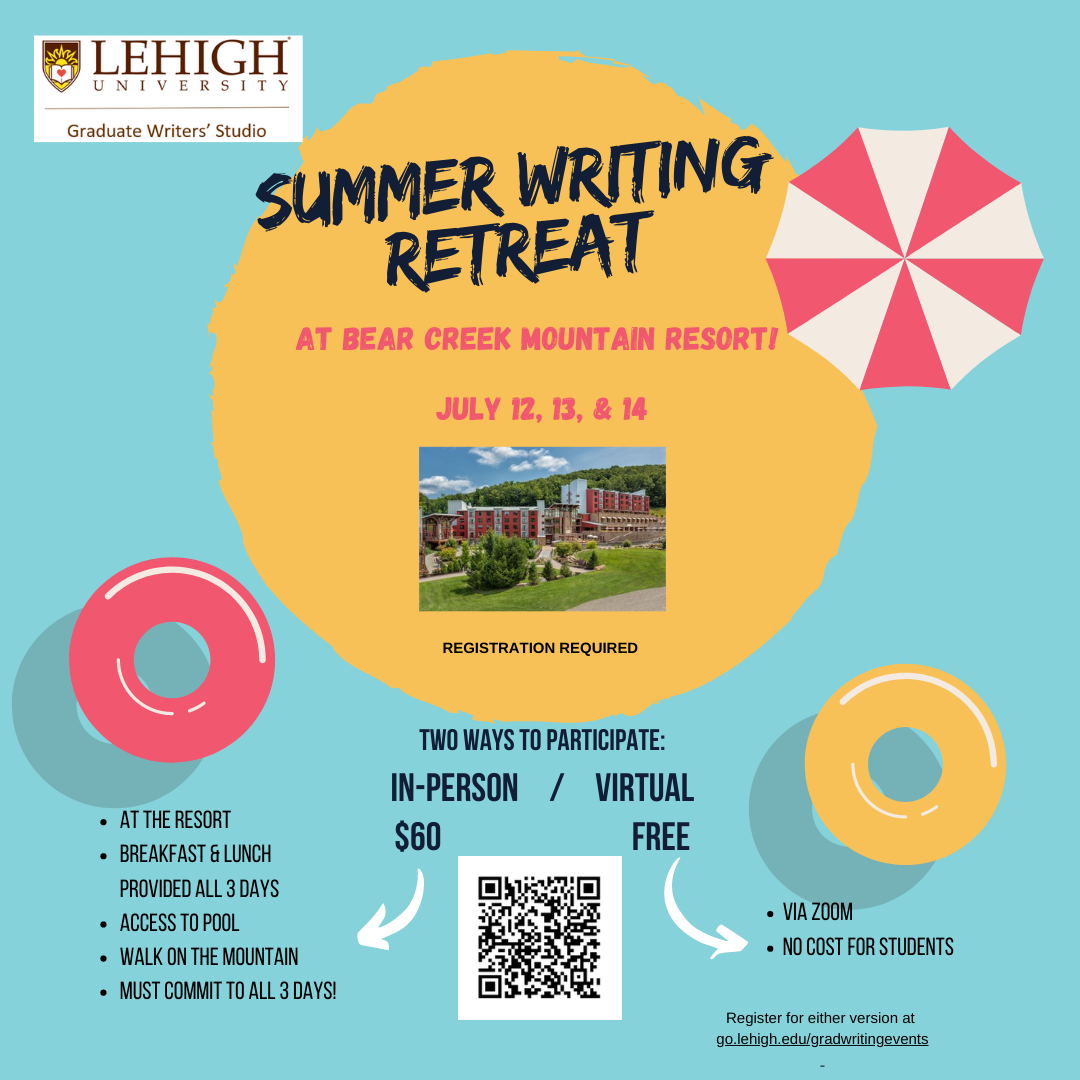 October Writing Retreat
December Writing Retreat
March Writing Retreat
May Write With Me Weekend
14-Day Writing Challenge
Monday, April 5 through Sunday, April 18