2023-24 Information
At Lehigh University, we believe that access to good health care is critical to your academic success. Therefore, we require that full-time graduate students have health insurance. Lehigh offers a high-quality student health insurance plan at a reasonable cost. Please see below for some key information and then click on the links for more details.  
Health Insurance for Graduate Students for Academic Year 2023-2024
Graduate students who are arriving on campus or starting their studies in Spring 2024: New or readmitted students who enter Lehigh University in the Spring term are NOT automatically enrolled in the Lehigh Student Health Insurance Plan, but are still required to have health insurance. If you meet eligibility requirements and have comparable coverage from a domestic insurance company with claims paid in the United States, you may choose to not purchase the Student Health Insurance Plan. However, if you are eligible and do not have health insurance, you are required to enroll in the Lehigh Student Health Insurance Plan and should email requests for Spring enrollment to bursar@lehigh.edu. Deadline to confirm enrollment is February 2, 2024 at 4:00PM
For complete details on the Student Health Insurance plan, including complete eligibility requirements, effective dates and costs, enrollment periods, and the schedule of benefits, please see the  Lehigh University Student Health Insurance Plan information available from University Health Plans.
A brief summary is provided below:
Full-time graduate students in degree-seeking programs must either enroll or waive the insurance by the deadline (for graduate students entering in Spring 2024, the deadline is February 2, 2024 at 4:00PM)
If you are a US citizen and covered by an employer, spouse, or parent, you are not required to purchase Lehigh's plan but you must waive the insurance 
If you are an international student on an F-1 or J-1 visa, you are required to enroll in Lehigh's insurance plan
Spring 2024 Graduate Health Insurance Premium is $1,525.00
Full Year (2023-2024) Graduate Health Insurance Premium is $2,452.00
NOTE: Teaching, Research and Graduate Assistants may be eligible for an 80% subsidy.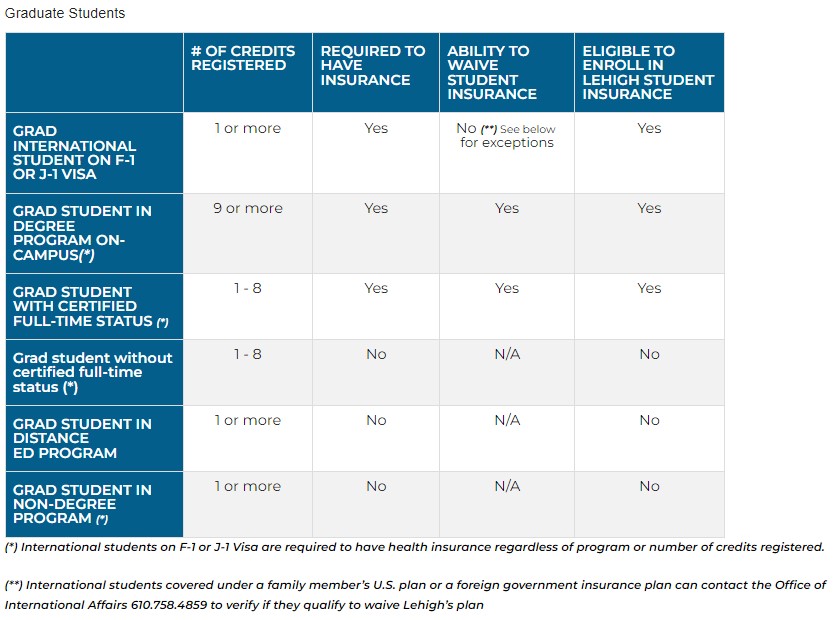 Graduate Student Health Insurance Subsidy
The subsidy program is an integral part of the University's commitment to providing our graduate students with a quality insurance program.  This insurance covers the graduate student only and not their dependents. There are Criteria for the Student Health Insurance Subsidy Program. For criteria, links, and helpful information, please click on the "health insurance subsidy" button below.
To help afford the dependent coverage, the University will provide a subsidy as well. Continue scrolling on this page to see Information regarding dependent health insurance subsidy and to learn more about this.
Spouse and Dependent Health Insurance Subsidy
Lehigh does not cover spouses and dependents under the insurance plans offered to students.  However, For 2023-2024, to help afford the dependent coverage, the University will provide a subsidy of $250 per semester per student/family per academic year to the eligible graduate students with a dependent child and/or spouse; minus the appropriate taxes for each semester during which they qualify. Eligible students must apply for the subsidy before the deadline and provide necessary documents.
For qualifying graduate students who have met criteria and purchased health insurance for Spring 2024 only, the deadline to apply for the dependent subsidy is February 26, 2024.
Please click the buttons below for the dependent subsidy policy and insurance options for spouses and dependents.