Lehigh's Health and Wellness Center:  Located in Johnson Hall on Packer Campus, Lehigh's Health and Wellness Center provides acute care and ongoing care to our graduate students.  The professional staff offers a host of services including routine examinations, immunizations, lab services, gynecological examinations, and contraceptive counseling.
Counseling & Psychological Services (UCPS): Located in Johnson Hall on Packer Campus, UCPS offers therapy free of cost to graduate students.  Counselors will work collaboratively with you to determine how UCPS can best meet your needs through brief individual therapy, group therapy, and/or a referral to a therapist in the local community. 
Health Insurance for Graduate Students:  Graduate students have the option to purchase health insurance through Lehigh University.  Lehigh believes that access to good insurance is essential to the health of our students.  Thus, Lehigh provides a subsidy program to help eligible graduate students pay for health insurance and a pay roll deduction option to help students who wish to avoid one large payment.  Click on the button below for more information.
Fitness for Graduate Students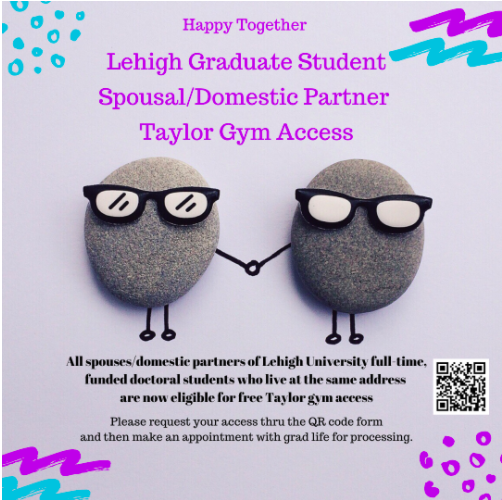 Lehigh Graduate Students also have access to different fitness options around campus.  Taylor Gym is Lehigh's Fitness and Recreation center and hosts many different programs and classes for students. 
Lehigh also allows spouses/domestic partners of Lehigh University full-time, funded doctoral students who live at the same address access to the Taylor gym for free!