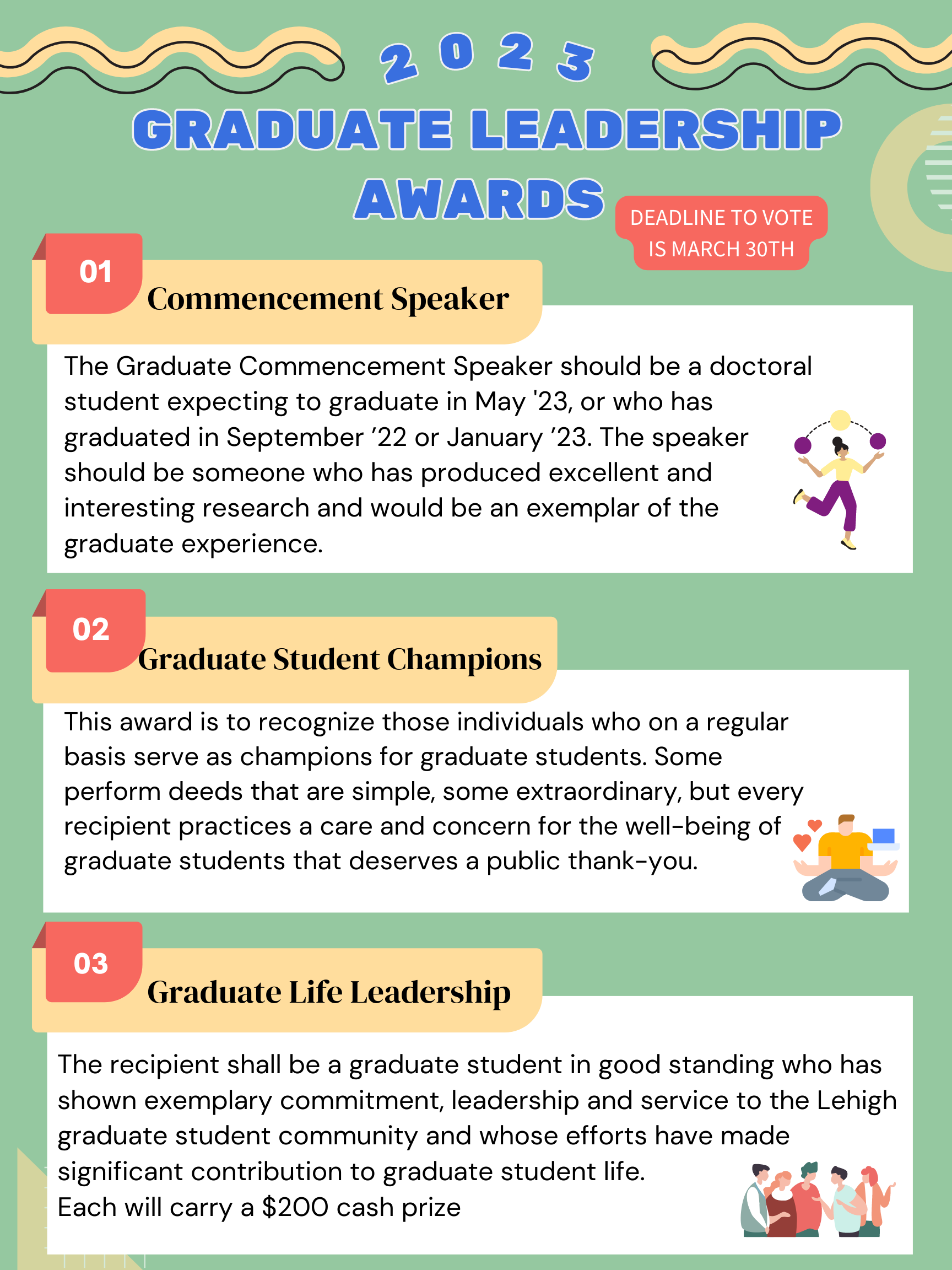 Each year, the Lehigh community is encouraged to honor the outstanding Lehigh graduate students who help make this community great.
Award winners are honored at the Graduate Student's Luncheon during the spring semester in the picturesque Wood Dining Room.
This year, we will be holding the Graduate Student Awards Luncheon on April 19th, 2023, at 12pm. Study tuned for additional details!!
Graduate Student Awards and Graduate Student-Nominated Awards
Graduate Life Leadership Award: 
Nominate a graduate student in good standing who has shown exemplary commitment, leadership and service to the Lehigh graduate student community and whose efforts have made significant contribution to graduate student life. Carries a $200 cash prize. Self-nominations will not be considered. Faculty, staff, and students (both undergrad and graduate) are invited to nominate.
Graduate Student Commencement Speaker:
The Graduate Commencement Speaker should be a doctoral student expecting to graduate in May '23, or who has graduated in September '22 or January '23.  The speaker should be someone who has produced excellent and interesting research and would be an exemplar of the graduate experience. Faculty, staff, and students are invited to nominate.  Self nominations will not be considered.
Graduate Student Champion Award:
This award is to recognize those individuals who on a regular basis serve as champions for graduate students. Some perform deeds that are simple, some extraordinary, but every recipient practices a care and concern for the well-being of graduate students that deserves a public thank-you.  Graduated students are invited to nominate faculty, staff, students and past students.  Self-nominations will not be considered.
Hillman Award for Excellence in Graduate Advising:
Nominate a Graduate Student Advisor who has shown excellence in teaching, research or advancing the interests of Lehigh University. Guiding students through their exploration and pursuit of an academic course of study or assisting students in the development and/or completion of research related to their degree program.  Traditionally the University reserves this award for those who have distinguished themselves through long-term excellence or service to the institution. Only current, full-time faculty members are eligible to receive nominations for this award (retired/emeriti faculty are not eligible).   
Louis & Helen Zirkel Library Staff Award:
Nominate a Staff-person associated with any of the Lehigh Libraries who has shown outstanding performance and service. The Library Users Committee will select the winner.
Undergraduate Nominated Awards
While Graduate students are not allowed to nominate, they should definitely know about this award!
"Do you know a fabulous TA graduate student that has made a difference? This award is given to a graduate student Teacher Assistant in recognition of extraordinary performance as a teaching assistant at Lehigh University. The following areas are used as a basis for evaluating outstanding performance: overall impact on Lehigh students and improving student, faculty and staff interactions."). Each will carry with it a $500 cash prize and recognition by the University. (Post Doc TAs are not eligible).